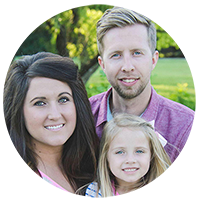 Tarah and I are extremely excited about what God is doing at New Hope Church and in Frostproof. We are seeing people find Hope in Jesus and people are being refreshed in the Holy Spirit. Come and connect on a Sunday or Wednesday because we would love to get to know you! God has incredible things waiting for you and your whole family!
If you have any questions or want to get some lunch give me a call or send me an email. – Pastor Landon
landon@newhopefp.org or 863-635-2702
Pastor Landon and Tarah are an extremely gifted couple. They come to us with over 14 years of experience in Ministry.
Landon is an outdoorsmen, originally from Canada. He loves photography and videography. He is gifted in other technologies as well. Landon is a very social guy and loves to be with people.  He loves planning and doing events and outreaches. He is a hard worker with strong leadership skills.
Tarah is also a great asset to our church. She grew up in Wauchula, FL until she was 19 years old.  She often played in the "Story of Jesus" dramas there each year.  She has been the Music Pastor the past several years and has a real heart for worship, and seeing people changed in the presence of God. Tarah is gifted in the Arts such as: Ballet, Dance, Human Videos, Drama, Singing, and playing keyboard.  She is also a great Mom to their 7-year-old daughter Emmah.
LOVE GOD, SERVE PEOPLE and SHARE HOPE
ROMANS 15:13 May the God of hope fill you with all joy and peace as you trust in him, so that you may overflow with hope by the power of the Holy Spirit.
These are nonnegotiable tenets of faith that all Assemblies of God churches adhere to. This list is derived from the official Statement of Fundamental Truths. Click links below to see the complete original statement with scriptures.
LOCATION
825 County Rd 630A
Frostproof FL 33843
SERVICE TIME
SUNDAY at 10:45AM
HOPE GROUPS
WEDNESDAY at 6:30PM